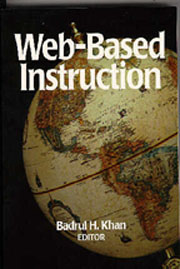 BOOK ORDER
Online (via Distance-Educator.com)
From the Publisher Fax (worldwide)
Web-Based Instruction
by Badrul H. Khan (Editor)

Hardcover ISBN: 0877782962 $89.95
Softcover ISBN: 0877782970 $59.95
Educational Technology Publications

WBI Book Flyer

In 59 chapters, this 480-page volume, 7 x 10 inches, covers all significant aspects of the design, development, delivery, and evaluation of instruction using Internet's World Wide Web. The book is already in its fourth printing reflecting its enormous acceptance worldwide and has become ETP's "best sellers." Many colleges and universities including, University of Chicago, The Open University of England, Penn State University, adopted the WBI book for use in courses. This book is one of the select few volumes to be nominated for the prestigeous annual books awards competition of the Division of Instructional Development of AECT.

Adopter Schools
(The WBI book is being used as textbook (also as reference work) by over 200 universities and colleges throughout the world.).


Book Reviews


Updates (Contains info regarding changes in chapter-related URLs).


Online Guides
-- A Guide to Online Learning based on Khan's Web-Based Instruction book - prepared by David Hume
-- An examination of major themes treated in the works of the text edited by Khan - prepared by Rebecca Rochon
-- The lurker's guide to Web-based Instruction: A supplement to the book Web-Based Instruction - prepared by Pamela Cross